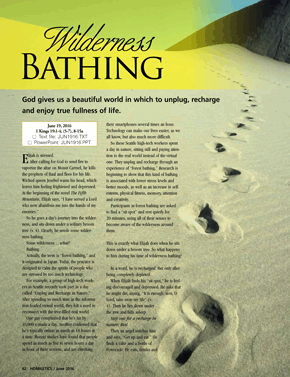 Wilderness Bathing
Sunday, June 19, 2016
|
1 Kings 19:1-4 (5-7) 8-15a
Stressed Japanese workers have taken to dashing off to forests for a deep connection with nature they call "forest bathing." Elijah is doing the same thing, only he's in a desert.
Elijah is stressed.

After calling for God to send fire to vaporize the altar on Mount Carmel, he kills the prophets of Baal and flees for his life. Wicked queen Jezebel wants his head, which leaves him feeling frightened and depressed. At the beginning of the novel The Fifth Mountain, Elijah says, "I have served a Lord who now abandons me into the hands of my enemies."

So he goes a day's journey into the wilderness, and sits down under a solitary broom tree (v. 4). Clearly, he needs some wilderness bathing.

Some wilderness ... what?

Bathing.

Actually, the term is "forest bathing," and it originated in Japan. Today, the practice is designed to calm the spirits of people who are stressed by too much technology.

For example, a group of high-tech workers in Seattle recently took part in a day called "Unplug and Recharge in Nature." After spending so much time in the information-loaded virtual world, they felt a need to reconnect with the tree-filled real world.

One guy complained that he's hit...
---
Start today. Cancel anytime.
Act now and, for just $6.99 a month or $69.95 a year, you'll receive a full year of this valuable, sermon preparation resource.
Our convenient, continuous-subscription program ensures you'll never miss out on the inspiration you need, when you need it.
You're never obligated to continue. Naturally, you may cancel at any time for any reason, no questions asked.