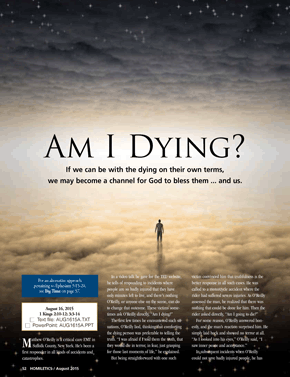 Am I Dying?
Sunday, August 16, 2015
|
1 Kings 2:10-12; 3:3-14
This is the question people in extremis often ask. Should they be told the truth?
Matthew O'Reilly is a critical care EMT in Suffolk County, New York. He's been a first responder in all kinds of accidents and catastrophes.

In a video talk he gave for the TED website, he tells of responding to incidents where people are so badly injured that they have only minutes left to live, and there's nothing O'Reilly, or anyone else on the scene, can do to change that outcome. These victims sometimes ask O'Reilly directly, "Am I dying?"

The first few times he encountered such situations, O'Reilly lied, thinking that comforting the dying person was preferable to telling the truth. "I was afraid if I told them the truth, that they would die in terror, in fear, just grasping for those last moments of life," he explained.

But being straightforward with one such victim convinced him that truthfulness is the better response in all such cases. He was called to a motorcycle accident where the rider had suffered severe injuries. As O'Reilly assessed the man, he realized that there was...
---
Start today. Cancel anytime.
Act now and, for just $6.99 a month or $69.95 a year, you'll receive a full year of this valuable, sermon preparation resource.
Our convenient, continuous-subscription program ensures you'll never miss out on the inspiration you need, when you need it.
You're never obligated to continue. Naturally, you may cancel at any time for any reason, no questions asked.