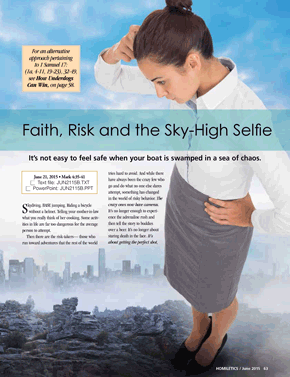 Faith, Risk and the Sky-High Selfie
Sunday, June 21, 2015
|
Mark 4:35-41
Rooftoppers love to scramble to the top of a skyscraper and take a photo downwards, so their feet are showing in the photo. Daring. Risky. Perhaps like stepping out of a boat in a storm to try to walk on water.
Skydiving. BASE jumping. Riding a bicycle without a helmet. Telling your mother-in-law what you really think of her cooking. Some activities in life are far too dangerous for the average person to attempt.

Then there are the risk-takers-- those who run toward adventures that the rest of the world tries hard to avoid. And while there have always been the crazy few who go and do what no one else dares attempt, something has changed in the world of risky behavior. The crazy ones now have cameras. It's no longer enough to experience the adrenaline rush and then tell the story to buddies over a beer. It's no longer about staring death in the face. It's about getting the perfect shot, of you, staring death in the face.

That's the big idea behind "rooftopping," a term used to describe the latest fad in death-defying behavior. Rooftoppers climb to some insane height, be it the top of a building or the edge of a cliff, and they snap a picture.

But it's not just any picture. Whereas your average...
---
Start today. Cancel anytime.
Act now and, for just $6.99 a month or $69.95 a year, you'll receive a full year of this valuable, sermon preparation resource.
Our convenient, continuous-subscription program ensures you'll never miss out on the inspiration you need, when you need it.
You're never obligated to continue. Naturally, you may cancel at any time for any reason, no questions asked.