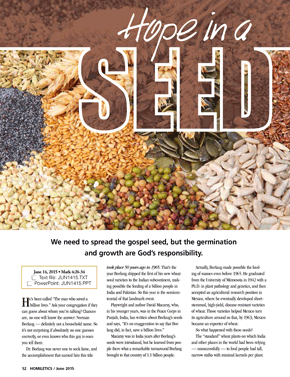 Hope in a Seed
Sunday, June 14, 2015
|
Mark 4:26-34
The text speaks of the power of a tiny mustard seed. Don't believe it? Consider a seed that's saved more than 50 million lives.
He's been called "The man who saved a billion lives." Ask your congregation if they can guess about whom you're talking? Chances are, no one will know the answer: Norman Borlaug -- definitely not a household name. So it's not surprising if absolutely no one guesses correctly, or even knows who this guy is once you tell them.

Dr. Borlaug was never one to seek fame, and the accomplishment that earned him this title took place 50 years ago in 1965. That's the year Borlaug shipped the first of his new wheat seed varieties to the Indian subcontinent, making possible the feeding of a billion people in India and Pakistan. So this year is the semicentennial of that landmark event.

Playwright and author David Macaray, who, in his younger years, was in the Peace Corps in Punjab, India, has written about Borlaug's seeds and says, "It's no exaggeration to say that Borlaug did, in fact, save a billion lives."

Macaray was in India years after Borlaug's seeds were introduced, but he learned from...
---
Start today. Cancel anytime.
Act now and, for just $6.99 a month or $69.95 a year, you'll receive a full year of this valuable, sermon preparation resource.
Our convenient, continuous-subscription program ensures you'll never miss out on the inspiration you need, when you need it.
You're never obligated to continue. Naturally, you may cancel at any time for any reason, no questions asked.