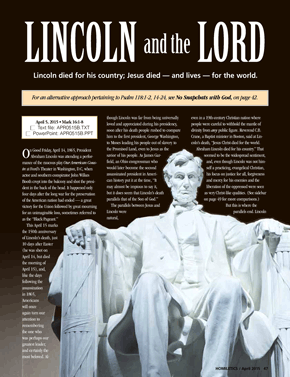 Lincoln and the Lord
Sunday, April 5, 2015
|
Mark 16:1-8
Easter Sunday is just a few days removed from the 150th anniversary of the assassination of President Lincoln (which occurred on Good Friday).
On Good Friday, April 14, 1865, President Abraham Lincoln was attending a performance of the raucous play Our American Cousin at Ford's Theater in Washington, D.C, when actor and southern conspirator John Wilkes Booth crept into the balcony and shot the president in the back of the head. It happened only four days after the long war for the preservation of the American nation had ended -- a great victory for the Union followed by great mourning for an unimaginable loss, sometimes referred to as the "Black Pageant."

This April 15 marks the 150th anniversary of Lincoln's death, just 10 days after Easter (he was shot on April 14, but died the morning of April 15), and, like the days following the assassination in 1865, Americans will once again turn our attention to remembering the one who was perhaps our greatest leader, and certainly the most beloved. Although Lincoln was far from being universally loved and appreciated during his presidency, soon after his death people rushed to ...
---
Start today. Cancel any time.
Act now and, for just $7.99 a month or $69.95 a year, you'll receive a full year of this valuable sermon preparation resource.
Our convenient, continuous-subscription program ensures you'll never miss out on the inspiration you need, when you need it.
You're never obligated to continue. Naturally, you may cancel at any time for any reason, no questions asked.