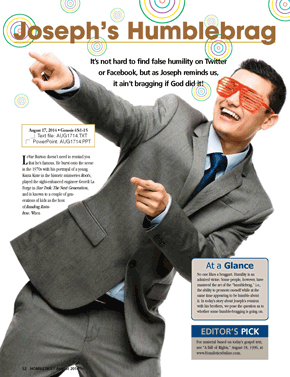 Joseph's Humblebrag
Sunday, August 17, 2014
|
Genesis 45:1-15
A "humblebrag" is a tweet or online message that purports to show one's humility, but it's offered in a way that manages nevertheless to puff up the sender.
LeVar Burton doesn't need to remind you that he's famous. He burst onto the scene in the 1970s with his portrayal of a young Kunta Kinte in the historic miniseries Roots, played the sight-enhanced engineer Geordi La Forge in Star Trek: The Next Generation, and is known to a couple of generations of kids as the host of Reading Rainbow. When you're that famous, however, you can't help but subtly remind people that you're kind of a big deal, and social media like Twitter has proven to be a great place to do that. Recently, LeVar tweeted "It's a good night for natural light in LA," featuring a photo of a fire in his fireplace. On the mantle above, however, conspicuously placed, were his ten Emmy Awards.

Three days after Christmas, he tweeted "Stockings still hung" with a photo of said stockings hanging on his awards.

We can't blame LeVar, however. As Muhammad Ali once put it, (borrowing from baseball philosopher Dizzy Dean and others), "It ain't braggin' if you can do it." But in these...
---
Start today. Cancel anytime.
Act now and, for just $6.99 a month or $69.95 a year, you'll receive a full year of this valuable, sermon preparation resource.
Our convenient, continuous-subscription program ensures you'll never miss out on the inspiration you need, when you need it.
You're never obligated to continue. Naturally, you may cancel at any time for any reason, no questions asked.