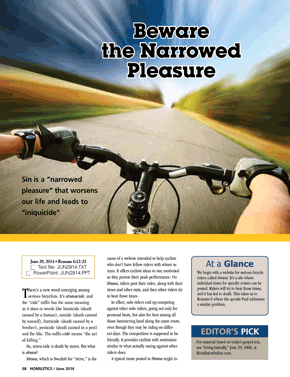 Beware the Narrowed Pleasure
Sunday, June 29, 2014
|
Romans 6:12-23
We begin with a website for serious bicycle riders called Strava. It's a site where individual times can be posted. Riders will try to beat those times, and it has led to death.
There's a new word emerging among serious bicyclists. It's stravacide, and the "cide" suffix has the same meaning as it does in words like homicide (death caused by a human), suicide (death caused by oneself), fratricide (death caused by a brother), pesticide (death caused to a pest) and the like. The suffix cide means "the act of killing."

So, strava-cide is death by strava. But what is strava?

Strava, which is Swedish for "strive," is the name of a website intended to help cyclists who don't have fellow riders with whom to train. It offers cyclists ideas to stay motivated as they pursue their peak performance. On Strava, riders post their rides, along with their times and other stats, and then other riders try to beat those times.

In effect, solo riders end up competing against other solo riders, going not only for personal bests, but also for best among all those hammering hard along the same route, even though they may be riding on different days. The competition is supposed to be...
---
Start today. Cancel anytime.
Act now and, for just $6.99 a month or $69.95 a year, you'll receive a full year of this valuable, sermon preparation resource.
Our convenient, continuous-subscription program ensures you'll never miss out on the inspiration you need, when you need it.
You're never obligated to continue. Naturally, you may cancel at any time for any reason, no questions asked.