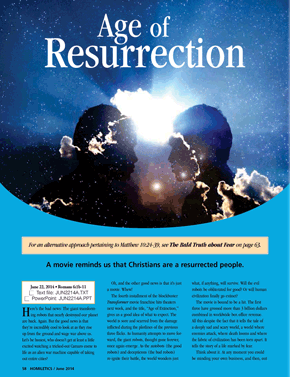 Age of Resurrection
Sunday, June 22, 2014
|
Romans 6:1b-11
The new Transformers movie is out, but the message for us is not the "Age of Extinction," but rather the "Age of Resurrection."
Here's the bad news: The giant transforming robots that nearly destroyed our planet are back. Again. But the good news is that they're incredibly cool to look at as they rise up from the ground and wage war above us. Let's be honest, who doesn't get at least a little excited watching a tricked-out Camaro come to life as an alien war machine capable of taking out entire cities?

Oh, and the other good news is that it's just a movie. Whew!

The fourth installment of the blockbuster Transformer movie franchise hits theaters next week, and the title, "Age of Extinction," gives us a good idea of what to expect. The world is sore and scarred from the damage inflicted during the plotlines of the previous three flicks. As humanity attempts to move forward, the giant robots, thought gone forever, once again emerge. As the autobots (the good robots) and decepticons (the bad robots) re-ignite their battle, the world wonders just what, if anything, will survive. Will the evil robots be obliterated...
---
Start today. Cancel anytime.
Act now and, for just $6.99 a month or $69.95 a year, you'll receive a full year of this valuable, sermon preparation resource.
Our convenient, continuous-subscription program ensures you'll never miss out on the inspiration you need, when you need it.
You're never obligated to continue. Naturally, you may cancel at any time for any reason, no questions asked.