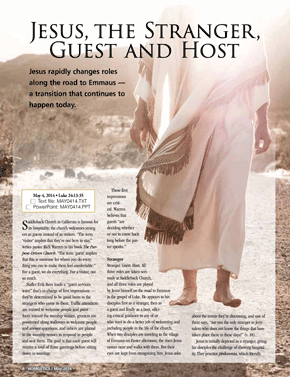 Jesus, the Stranger, Guest and Host
Sunday, May 4, 2014
|
Luke 24:13-35
Jesus participates in the ancient practice of Christian hospitality by acting as both guest and host.
Saddleback Church in California is famous for its hospitality; the church welcomes strangers as guests instead of as visitors. "The term 'visitor' implies that they're not here to stay," writes pastor Rick Warren in his book The Purpose-Driven Church. "The term 'guest' implies that this is someone for whom you do everything you can to make them feel comfortable." For a guest, we do everything. For a visitor, not so much.

Staffer Erik Rees leads a "guest services team" that's in charge of first impressions -- they're determined to be good hosts to the strangers who come to them. Traffic attendants are trained to welcome people and point them toward the worship venues, greeters are positioned along walkways to welcome people and answer questions, and ushers are placed in the worship venues to respond to people and seat them. The goal is that each guest will receive a total of three greetings before sitting down in worship.

These first impressions are critical. Warren believes that guests ...
---
Start today. Cancel anytime.
Act now and, for just $6.99 a month or $69.95 a year, you'll receive a full year of this valuable, sermon preparation resource.
Our convenient, continuous-subscription program ensures you'll never miss out on the inspiration you need, when you need it.
You're never obligated to continue. Naturally, you may cancel at any time for any reason, no questions asked.