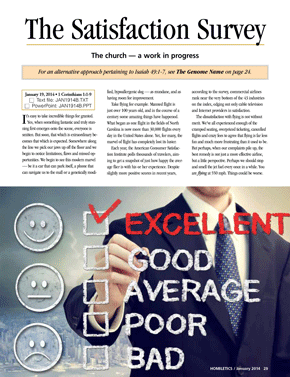 The Satisfaction Survey
Sunday, January 19, 2014
|
1 Corinthians 1:1-9
Ever get an email from a hotel or airline wanting to know about your recent experience with them? The apostle Paul talks about his satisfaction level with the church at Corinth.
It's easy to take incredible things for granted.

Yes, when something fantastic and truly stunning first emerges onto the scene, everyone is smitten. But soon, that which is extraordinary becomes that which is expected. Somewhere along the line we pick our jaws up off the floor and we begin to notice limitations, flaws and missed opportunities. We begin to see this modern marvel -- be it a car that can park itself, a phone that can navigate us to the mall or a genetically modified, hypoallergenic dog -- as mundane, and as having room for improvement.

Take flying for example. Manned flight is just over 100 years old, and in the course of a century some amazing things have happened. What began as one flight in the fields of North Carolina is now more than 30,000 flights every day in the United States alone. Yet, for many, the marvel of flight has completely lost its luster.

Each year, the American Consumer Satisfaction Institute polls thousands of travelers, aiming to get a snapshot of just ...
---
Start today. Cancel any time.
Act now and, for just $7.99 a month or $69.95 a year, you'll receive a full year of this valuable sermon preparation resource.
Our convenient, continuous-subscription program ensures you'll never miss out on the inspiration you need, when you need it.
You're never obligated to continue. Naturally, you may cancel at any time for any reason, no questions asked.