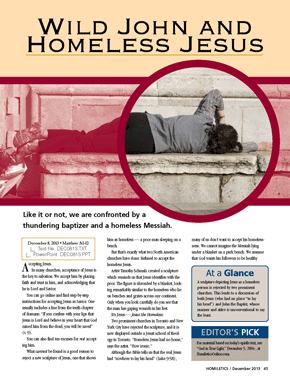 Wild John and Homeless Jesus
Sunday, December 8, 2013
|
Matthew 3:1-12
A statue of Jesus portrayed as a homeless person has a hard time finding a home.
Accepting Jesus.

In many churches, acceptance of Jesus is the key to salvation. We accept him by placing faith and trust in him, and acknowledging that he is Lord and Savior.

You can go online and find step-by-step instructions for accepting Jesus as Savior. One usually includes a line from the tenth chapter of Romans: "If you confess with your lips that Jesus is Lord and believe in your heart that God raised him from the dead, you will be saved" (v. 9).

You can also find ten excuses for not accepting him.

What cannot be found is a good reason to reject a new sculpture of Jesus, one that shows him as homeless -- a poor man sleeping on a bench.

But that's exactly what two North American churches have done: Refused to accept the homeless Jesus.

Artist Timothy Schmalz created a sculpture which reminds us that Jesus identifies with the poor. The figure is shrouded by a blanket, looking remarkably similar to the homeless who lie on benches and grates across our continent. Only when you look...
---
Start today. Cancel anytime.
Act now and, for just $6.99 a month or $69.95 a year, you'll receive a full year of this valuable, sermon preparation resource.
Our convenient, continuous-subscription program ensures you'll never miss out on the inspiration you need, when you need it.
You're never obligated to continue. Naturally, you may cancel at any time for any reason, no questions asked.