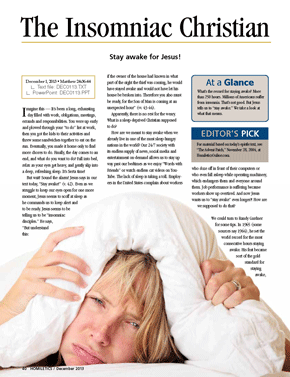 The Insomniac Christian
Sunday, December 1, 2013
|
Matthew 24:36-44
What's the record for staying awake? More than 100 hours? 200? We ask, because Jesus asks us to "stay awake."
Imagine this -- It's been a long, exhausting day filled with work, obligations, meetings, errands and responsibilities. You were up early and plowed through your "to do" list at work, then you got the kids to their activities and threw some sandwiches together to eat on the run. Eventually, you made it home only to find more chores to do. Finally, the day comes to an end, and what do you want to do? Fall into bed, relax as your eyes get heavy, and gently slip into a deep, refreshing sleep. It's Serta time!

But wait! Sound the alarm! Jesus says in our text today, "Stay awake!" (v. 42). Even as we struggle to keep our eyes open for one more moment, Jesus seems to scoff at sleep as he commands us to keep alert and to be ready. Jesus seems to be telling us to be "insomniac disciples." He says, "But understand this:

if the owner of the house had known in what part of the night the thief was coming, he would have stayed awake and would not have let his house be broken into. Therefore you...