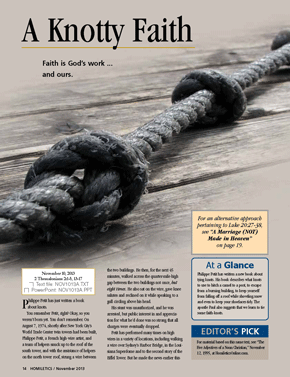 A Knotty Faith
Sunday, November 10, 2013
|
2 Thessalonians 2:1-5, 13-17
Philippe Petit, who once cavorted on a high wire between the twin towers of the World Trade Center, has written a book about tying knots. There's a lesson here about faith.
Philippe Petit has just written a book about knots.

You remember Petit, right? Okay, so you weren't born yet. You don't remember. On August 7, 1974, shortly after New York City's World Trade Center twin towers had been built, Philippe Petit, a French high-wire artist, and a team of helpers snuck up to the roof of the south tower, and with the assistance of helpers on the north tower roof, strung a wire between the two buildings. He then, for the next 45 minutes, walked across the quarter-mile-high gap between the two buildings not once, but eight times. He also sat on the wire, gave knee salutes and reclined on it while speaking to a gull circling above his head.

His stunt was unauthorized, and he was arrested, but public interest in and appreciation for what he'd done was so strong that all charges were eventually dropped.

Petit has performed many times on high wires in a variety of locations, including walking a wire over Sydney's Harbor Bridge, in the Louisiana Superdome and to the...