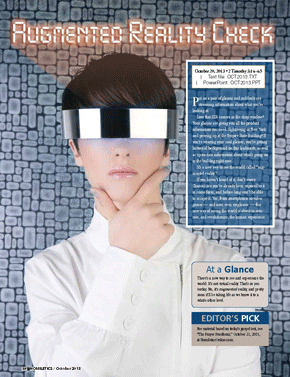 Augmented Reality Check
Sunday, October 20, 2013
|
2 Timothy 3:14-4:5
Put on a pair of Google glasses and a whole new dimension opens up. But for Christians this is old news. Isn't this sort of what the gospel is all about? Augmented reality?
At a Glance

There's a new way to see and experience the world. It's not virtual reality. That's so yesterday. No, it's augmented reality, and pretty soon it'll be taking life as we know it to a whole other level.


Editors' Pick

For material based on today's gospel text, see "The Prayer Prosthesis," October 21, 2001, at HomileticsOnline.com.


Put on a pair of glasses and suddenly see streaming information about what you're looking at.

Love that SLR camera in the shop window? Your glasses are giving you all the product information you need. Sightseeing in New York and peering up at the Empire State Building? If you're wearing your cool glasses, you're getting historical background on this landmark, as well as up-to-date information about what's going on in the building right now.

It's a new way to see the world called "augmented reality."

If you haven't heard of it, don't worry. Chances are you've already been exposed to it in some form, and before long won't be able to...
---
Start today. Cancel anytime.
Act now and, for just $6.99 a month or $69.95 a year, you'll receive a full year of this valuable, sermon preparation resource.
Our convenient, continuous-subscription program ensures you'll never miss out on the inspiration you need, when you need it.
You're never obligated to continue. Naturally, you may cancel at any time for any reason, no questions asked.