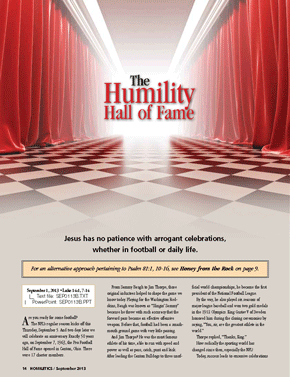 The Humility Hall of Fame
Sunday, September 1, 2013
|
Luke 14:1, 7-14
Football season starts on Thursday, which means we're in for five months of excessive celebrating in the end zone.
Are you ready for some football?

The NFL's regular season kicks off this Thursday, September 5. And two days later we will celebrate an anniversary. Exactly 50 years ago, on September 7, 1963, the Pro Football Hall of Fame opened in Canton, Ohio. There were 17 charter members.

From Sammy Baugh to Jim Thorpe, those original inductees helped to shape the game we know today. Playing for the Washington Redskins, Baugh was known as "Slingin' Sammy" because he threw with such accuracy that the forward pass became an effective offensive weapon. Before that, football had been a smash-mouth ground game with very little passing.

And Jim Thorpe? He was the most famous athlete of his time, able to run with speed and power as well as pass, catch, punt and kick. After leading the Canton Bulldogs to three unofficial world championships, he became the first president of the National Football League.

By the way, he also played six seasons of major-league baseball and won two gold medals in the 1912...