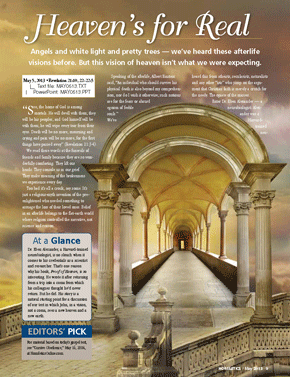 Heaven's for Real
Sunday, May 5, 2013
|
Revelation 21:10, 22–22:5
When neurosurgeon Eben Alexander found himself in a coma, he experienced what he never thought possible -- a journey to the afterlife.
"See, the home of God is among mortals. He will dwell with them; they will be his peoples, and God himself will be with them; he will wipe every tear from their eyes. Death will be no more; mourning and crying and pain will be no more, for the first things have passed away" (Revelation 21:3-4).

We read these words at the funerals of friends and family because they are so wonderfully comforting. They lift our heads. They console us in our grief. They make meaning of the brokenness we experience every day.

Too bad it's all a crock, say some. It's just a religious-myth invention of the pre-enlightened who needed something to assuage the loss of their loved ones. Belief in an afterlife belongs to the flat-earth world where religion controlled the narrative, not science and reason.

Speaking of the afterlife, Albert Einstein said, "An individual who should survive his physical death is also beyond my comprehension, nor do I wish it otherwise; such notions are for the fears or absurd egoism of ...
---
Start today. Cancel anytime.
Act now and, for just $6.99 a month or $69.95 a year, you'll receive a full year of this valuable, sermon preparation resource.
Our convenient, continuous-subscription program ensures you'll never miss out on the inspiration you need, when you need it.
You're never obligated to continue. Naturally, you may cancel at any time for any reason, no questions asked.