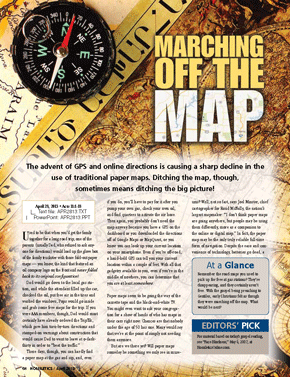 Marching Off the Map
Sunday, April 28, 2013
|
Acts 11:1-18
Remember the free maps you used to be able to get at gas stations? Well, they're not free any more, and it's becoming harder to find them.
Used to be that when you'd get the family

together for a long road trip; one of the parents (usually Dad, who refused to ask anyone for directions) would load up the glove box of the family truckster with those fold-out paper maps -- you know, the kind that featured an oil company logo on the front and never folded back to its original configuration!

Dad would go down to the local gas station, and while the attendant filled up the car, checked the oil, put free air in the tires and washed the windows, Pops would go inside and grab some free maps for the trip. If you were AAA members, though, Dad would most certainly have already ordered the TripTik, which gave him turn-by-turn directions and stamped-on warnings about construction that would cause Dad to want to leave at o-dark-thirty in order to "beat the traffic."

These days, though, you can hardly find a paper map at the gas and sip, and, even if you do, you'll have to pay for it after you pump your own gas, check your own oil, and...