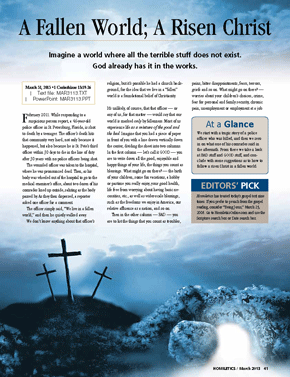 A Fallen World; A Risen Christ
Sunday, March 31, 2013
|
1 Corinthians 15:19-26
A police officer is shot, and dies. A Savior is killed, and lives.
February 2011. While responding to a suspicious person report, a 46-year-old police officer in St. Petersburg, Florida, is shot to death by a teenager. The officer's death hits that community very hard, not only because it happened, but also because he is St. Pete's third officer within 30 days to die in the line of duty after 30 years with no police officers being shot.

The wounded officer was taken to the hospital, where he was pronounced dead. Then, as his body was wheeled out of the hospital to go to the medical examiner's office, about two dozen of his comrades lined up outside, saluting as the body passed by. As they then dispersed, a reporter asked one officer for a comment.

The officer simply said,"We live in a fallen world," and then he quietly walked away.

We don't know anything about that officer's religion, but it's possible he had a church background, for the idea that we live in a "fallen" world is a foundational belief of Christianity.

It's unlikely, of course, that that...