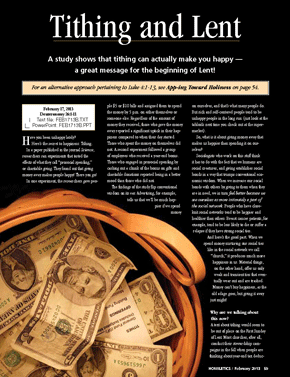 Tithing and Lent
Sunday, February 17, 2013
|
Deuteronomy 26:1-11
Think giving is hard? Maybe it is. But people who give discover an amazing truth: Giving makes them happy!
Have you been unhappy lately?

Here's the secret to happiness: Tithing.

In a paper published in the journal Science, researchers ran experiments that tested the effects of what they call "prosocial spending," or charitable giving. They found out that giving money away makes people happy! There you go!

In one experiment, the researchers gave people $5 or $20 bills and assigned them to spend the money by 5 p.m. on either themselves or someone else. Regardless of the amount of money they received, those who gave the money away reported a significant uptick in their happiness compared to when their day started. Those who spent the money on themselves did not. A second experiment followed a group of employees who received a year-end bonus. Those who engaged in prosocial spending by cashing out a chunk of the bonus on gifts and charitable donations reported being in a better mood than those who did not.

The findings of the study flip conventional wisdom on its ear. Advertising, for example,...
---
Start today. Cancel anytime.
Act now and, for just $6.99 a month or $69.95 a year, you'll receive a full year of this valuable, sermon preparation resource.
Our convenient, continuous-subscription program ensures you'll never miss out on the inspiration you need, when you need it.
You're never obligated to continue. Naturally, you may cancel at any time for any reason, no questions asked.