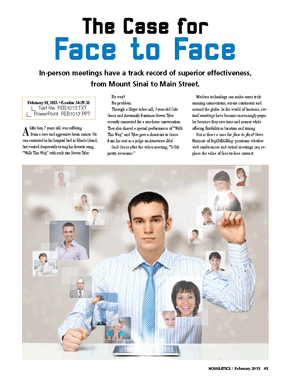 The Case for Face to Face
Sunday, February 10, 2013
|
Exodus 34:29-35
Skype, Apple's FaceTime and technology for virtual business meetings are not going away. But a recent study reveals that most people prefer face-to-face communication.
A little boy, 7 years old, was suffering from a rare and aggressive brain cancer. He was restricted to his hospital bed in Rhode Island, but wanted desperately to sing his favorite song, "Walk This Way," with rock star Steven Tyler.

No way?

No problem.

Through a Skype video call, 7-year-old Cole Grace and Aerosmith frontman Steven Tyler recently connected for a one-hour conversation. They also shared a special performance of "Walk This Way," and Tyler gave a shout-out to Grace from his seat as a judge on American Idol.

Said Grace after the video meeting, "It felt pretty awesome."

Modern technology can make some truly amazing connections, across continents and around the globe. In the world of business, virtual meetings have become increasingly popular because they save time and money while offering flexibility in location and timing.

But is there a case for face to face? Steve Manicor of bigIDEASblog questions whether web conferences and virtual meetings can replace the value of...