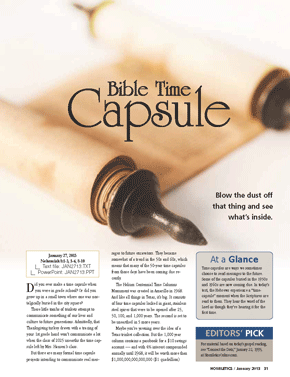 Bible Time Capsule
Sunday, January 27, 2013
|
Nehemiah 8:1-3, 5-6, 8-10
Time capsules buried in the 50s and 60s are "coming due" these days. In this text, the people of God have a "time-capsule" moment as they hear the word of God as though it were for the first time.
Did you ever make a time capsule when you were in grade school? Or did you grow up in a small town where one was nostalgically buried in the city square?

These little tombs of trinkets attempt to communicate something of our lives and culture to future generations. Admittedly, that Thanksgiving turkey drawn with a tracing of your 1st grade hand won't communicate a lot when the class of 2025 unearths the time capsule left by Mrs. Hansen's class.

But there are many formal time capsule projects intending to communicate real messages to future excavators. They became somewhat of a trend in the 50s and 60s, which means that many of the 50-year time capsules from those days have been coming due recently.

The Helium Centennial Time Columns Monument was created in Amarillo in 1968. And like all things in Texas, it's big. It consists of four time capsules locked in giant, stainless steel spires that were to be opened after 25, 50, 100, and 1,000 years. The second is set to be unearthed in 5 more...