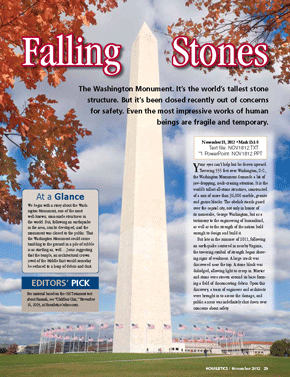 Falling Stones
Sunday, November 18, 2012
|
Mark 13:1-8
The Washington Monument and the Temple of Herod. What do these two structures have in common?
Your eyes can't help but be drawn upward.

Towering 555 feet over Washington, D.C., the Washington Monument demands a bit of jaw-dropping, neck-craning attention. It is the world's tallest all-stone structure, constructed of a mix of more than 36,000 marble, granite and gneiss blocks. The obelisk stands guard over the capital city, not only in honor of its namesake, George Washington, but as a testimony to the engineering of humankind, as well as to the strength of the nation bold enough to design and build it.

But late in the summer of 2011, following an earthquake centered in nearby Virginia, the towering symbol of strength began showing signs of weakness. A large crack was discovered near the top. A stone block was dislodged, allowing light to creep in. Mortar and stone were strewn around its base forming a field of disconcerting debris. Upon this discovery, a team of engineers and architects were brought in to assess the damage, and public access was indefinitely shut down over...