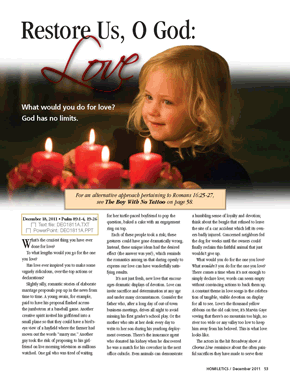 Restore Us, O God: Love
Sunday, December 18, 2011
|
Psalm 89:1-4, 19-26
The fourth of four of an Advent series based on the Psalm readings and linked to the four candles of the Advent wreath.
Restore us, O God -- An Advent Series Based on the Psalm Readings and Linked to the Four Candles of the Advent Wreath

The first three psalms (80, 85 and 126) all contain the verb "to restore." This suggests a theme that speaks to the spiritual hunger within all of us -- that of having once known a very precious truth that has somehow slipped from our grasp. The human dilemma is that we spend a lot of time groping on our hands and knees in the dark, hoping to find a light that will reveal the meaning of life, or a lantern that will light our path. What we need is a Savior, the Light of the World, to come to us and reveal the truth, and perhaps to remind us that the treasure we've been seeking isn't the true treasure after all. Although the word "restore" is not used in the Psalm reading for Advent 4, clearly the writer feels that God's love for the people of God has been restored; once again, the love of God as evinced through God's faithfulness has been decisively...
---
Start today. Cancel any time.
Act now and, for just $7.99 a month or $69.95 a year, you'll receive a full year of this valuable sermon preparation resource.
Our convenient, continuous-subscription program ensures you'll never miss out on the inspiration you need, when you need it.
You're never obligated to continue. Naturally, you may cancel at any time for any reason, no questions asked.