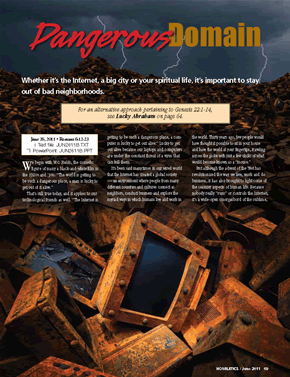 Dangerous Domain
Sunday, June 26, 2011
|
Romans 6:12-23
The worldwide village we call the Internet has some dangerous neighborhoods. Visit these domains, and you increase your chances of getting cyber-mugged. The apostle Paul talks about dangerous domains, as well.

We begin with W.C. Fields, the comedic figure of many a black-and-white film in the 1920s and '30s: "The world is getting to be such a dangerous place, a man is lucky to get out of it alive."

That's still true today, and it applies to our technological friends as well. "The Internet is getting to be such a dangerous place, a computer is lucky to get out alive." Lucky to get out alive because our laptops and computers are under the constant threat of a virus that can kill them.

It's been said many times in our wired world that the Internet has created a global society - an environment where people from many different countries and cultures connect as neighbors, conduct business and explore the myriad ways in which humans live and work in the world. Thirty years ago, few people would have thought it possible to sit in your house and have the world at your fingertips, traveling across the globe with just a few clicks of what would become known as a "mouse."

But although the advent of the...
---
Start today. Cancel anytime.
Act now and, for just $6.99 a month or $69.95 a year, you'll receive a full year of this valuable, sermon preparation resource.
Our convenient, continuous-subscription program ensures you'll never miss out on the inspiration you need, when you need it.
You're never obligated to continue. Naturally, you may cancel at any time for any reason, no questions asked.