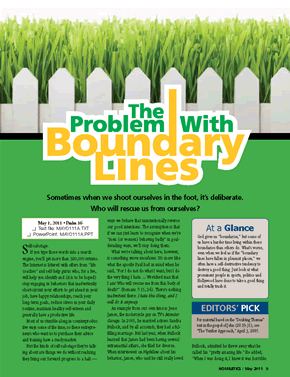 The Problem with Boundary Lines
Sunday, May 1, 2011
|
Psalm 16
God gives us "boundaries," but some people have a harder time living with those boundaries than others do.
Self-sabotage.

If you type those words into a search engine, you'll get more than 380,000 returns. The Internet is littered with offers from "life coaches" and self-help gurus who, for a fee, will help you identify and (it is to be hoped) stop engaging in behaviors that inadvertently short-circuit your efforts to get ahead in your job, have happy relationships, reach your long-term goals, reduce stress in your daily routine, maintain healthy self-esteem and generally have a productive life.

Most of us stumble along in counterproductive ways some of the time, so these entrepreneurs who want us to purchase their advice and training have a ready market.

But the kinds of self-sabotage they're talking about are things we do without realizing they bring our forward progress to a halt - ways we behave that unintentionally reverse our good intentions. The assumption is that if we can just learn to recognize when we're "men (or women) behaving badly" in goal-derailing ways, we'll stop doing them.

---
Start today. Cancel anytime.
Act now and, for just $6.99 a month or $69.95 a year, you'll receive a full year of this valuable, sermon preparation resource.
Our convenient, continuous-subscription program ensures you'll never miss out on the inspiration you need, when you need it.
You're never obligated to continue. Naturally, you may cancel at any time for any reason, no questions asked.