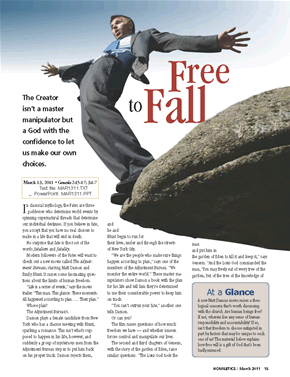 Free to Fall
Sunday, March 13, 2011
|
Genesis 2:15-17; 3:1-7
In The Adjustment Bureau, a new Matt Damon movie, some people make sure things go according to plan.

In classical mythology, the Fates are three goddesses who determine world events by spinning supernatural threads that determine our individual destinies. If you believe in fate, you accept that you have no real choices to make in a life that will end in death.

No surprise that fate is the root of the words fatalism and fatality.

Modern followers of the Fates will want to check out a new movie called The Adjustment Bureau, starring Matt Damon and Emily Blunt. It raises some fascinating questions about the limits of human freedom.

"Life is a series of events," says the movie trailer. "This man. This glance. These moments. All happened according to plan. … Their plan."

Whose plan?

The Adjustment Bureau's.

Damon plays a Senate candidate from New York who has a chance meeting with Blunt, sparking a romance. This isn't what's supposed to happen in his life, however, and suddenly a group of mysterious men from the Adjustment Bureau step in to put...
---
Start today. Cancel anytime.
Act now and, for just $6.99 a month or $69.95 a year, you'll receive a full year of this valuable, sermon preparation resource.
Our convenient, continuous-subscription program ensures you'll never miss out on the inspiration you need, when you need it.
You're never obligated to continue. Naturally, you may cancel at any time for any reason, no questions asked.