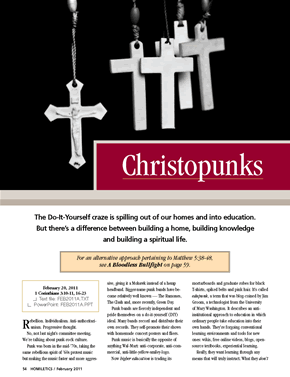 Christopunks
Sunday, February 20, 2011
|
1 Corinthians 3:10-11, 16-23
Edupunk is an anti-institutional approach in which ordinary people take education into their own hands using new tools such as wikis, free online videos, blogs, open-source textbooks and experiential learning. So what's Christopunk?

Rebellion. Individualism. Anti-authoritarianism. Progressive thought.

No, not last night's committee meeting. We're talking about punk-rock culture.

Punk was born in the mid-'70s, taking the same rebellious spirit of '60s protest music but making the music faster and more aggressive, giving it a Mohawk instead of a hemp headband. Bigger-name punk bands have become relatively well known — The Ramones, The Clash and, more recently, Green Day.

Punk bands are fiercely independent and pride themselves on a do-it-yourself (DIY) ideal. Many bands record and distribute their own records. They self-promote their shows with homemade concert posters and fliers.

Punk music is basically the opposite of anything Wal-Mart: anti-corporate, anti-commercial, anti-little-yellow-smiley-logo.

Now higher education is trading its mortarboards and graduate robes for black T-shirts, spiked belts and pink hair. It's called edupunk, a term that was blog-coined by Jim Groom, a technologist from the University of Mary ...
---
Start today. Cancel anytime.
Act now and, for just $6.99 a month or $69.95 a year, you'll receive a full year of this valuable, sermon preparation resource.
Our convenient, continuous-subscription program ensures you'll never miss out on the inspiration you need, when you need it.
You're never obligated to continue. Naturally, you may cancel at any time for any reason, no questions asked.