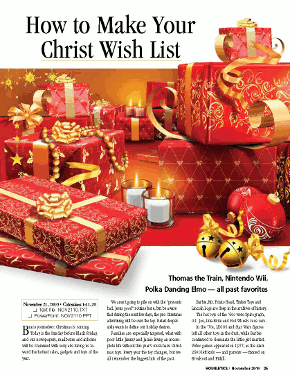 How to Make Your Christ Wish List
Sunday, November 21, 2010
|
Colossians 1:11-20
The hot toys of the '60s were the Spirograph, G.I. Joe, Lite-Brite and Hot Wheels race cars. So what do you want this year?

Brace yourselves: Christmas is coming.

Today is the Sunday before Black Friday, and our newspapers, mailboxes and inboxes will be crammed with sexy ads luring us toward the hottest sales, gadgets and toys of the year.

We aren't going to pile on with the "presents bad, Jesus good" routine here, but be aware that during the next few days, the pre-Christmas advertising will be over the top. Retail desperately wants to define our holiday desires.

Families are especially targeted, what with poor little Jimmy and Jamie living an incomplete life without this year's must-have Christmas toys. Every year the toy changes, but we all remember the biggest hits of the past.

Barbie, Mr. Potato Head, Tinker Toys and Lincoln Logs are deep in the archives of history.

The hot toys of the '60s were Spirograph, G.I. Joe, Lite-Brite and Hot Wheels race cars.

In the '70s, LEGOS and Star Wars figures left all other toys in the dust, while Barbie continued to dominate the little-girl market. Video games appeared...
---
Start today. Cancel anytime.
Act now and, for just $6.99 a month or $69.95 a year, you'll receive a full year of this valuable, sermon preparation resource.
Our convenient, continuous-subscription program ensures you'll never miss out on the inspiration you need, when you need it.
You're never obligated to continue. Naturally, you may cancel at any time for any reason, no questions asked.