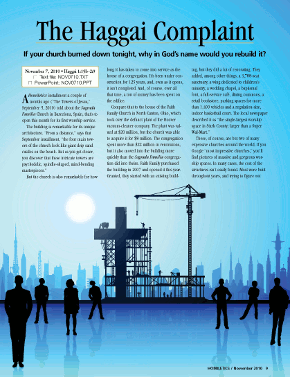 The Haggai Complaint
Sunday, November 7, 2010
|
Haggai 1:15b-2:9
The prophet complains that people are more willing to build their own houses than a house for God. Is this still true today?

A Homiletics installment a couple of months ago ("The Towers of Jesus," September 5, 2010) told about the Sagrada Familia Church in Barcelona, Spain, that's to open this month for its first worship service.

The building is remarkable for its unique architecture. "From a distance," says that September installment, "the four main towers of the church look like giant drip sand castles on the beach. But as you get closer, you discover that these intricate towers are psychedelic, spindle-shaped, mind-bending masterpieces."

But the church is also remarkable for how long it has taken to come into service as the house of a congregation. It's been under construction for 125 years, and, even as it opens, it isn't completed. And, of course, over all that time, a ton of money has been spent on the edifice.

Compare that to the house of the Faith Family Church in North Canton, Ohio, which took over the defunct plant of the Hoover vacuum-cleaner company. The plant was valued at $20 million, but the...