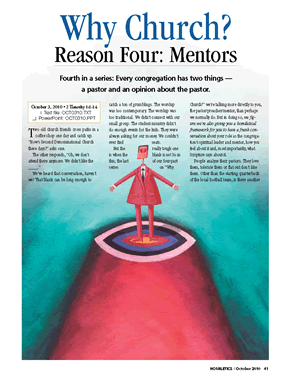 Why Church? Reason Four: Mentors
Sunday, October 3, 2010
|
2 Timothy 1:1-14
The fourth and last in a series on why we go to church: because we need spiritual mentoring.

Two old church friends cross paths in a coffee shop one day and catch up. "How's Second Denominational Church these days?" asks one.

The other responds, "Oh, we don't attend there anymore. We didn't like the ____."

We've heard that conversation, haven't we? That blank can be long enough to catch a ton of grumblings. The worship was too contemporary. The worship was too traditional. We didn't connect with our small group. The student ministry didn't do enough events for the kids. They were always asking for our money. We couldn't ever find seats.

But the really tough one is when the blank is us! So in this, the last of our four-part series on "Why Church?" we're talking more directly to you, the pastor/preacher/mentor, than perhaps we normally do. But in doing so, we figure we're also giving you a homiletical framework for you to have a frank conversation about your role as the...
---
Start today. Cancel any time.
Act now and, for just $7.99 a month or $69.95 a year, you'll receive a full year of this valuable sermon preparation resource.
Our convenient, continuous-subscription program ensures you'll never miss out on the inspiration you need, when you need it.
You're never obligated to continue. Naturally, you may cancel at any time for any reason, no questions asked.