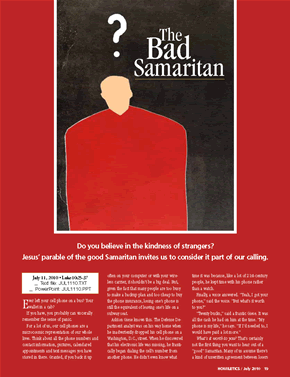 The Bad Samaritan
Sunday, July 11, 2010
|
Luke 10:25-37
We love and value people who risk life, limb and a few bucks to help others. But, believe it or not, someday we might run into a bad Samaritan.

Ever left your cell phone on a bus? Your wallet in a cab?

If you have, you probably can viscerally remember the sense of panic.

For a lot of us, our cell phones are a microcosmic representation of our whole lives. Think about all the phone numbers and contact information, pictures, calendared appointments and text messages you have stored in there. Granted, if you back it up often on your computer or with your wireless carrier, it shouldn't be a big deal. But, given the fact that many people are too busy to make a backup plan and too cheap to buy the phone insurance, losing one's phone is still the equivalent of leaving one's life on a subway seat.

Ashton Giese knows this. The Defense Department analyst was on his way home when he inadvertently dropped his cell phone on a Washington, D.C., street. When he discovered that his electronic life was missing, he frantically began dialing the cell's number from another phone. He didn't even know what time it was...
---
Start today. Cancel anytime.
Act now and, for just $6.99 a month or $69.95 a year, you'll receive a full year of this valuable, sermon preparation resource.
Our convenient, continuous-subscription program ensures you'll never miss out on the inspiration you need, when you need it.
You're never obligated to continue. Naturally, you may cancel at any time for any reason, no questions asked.