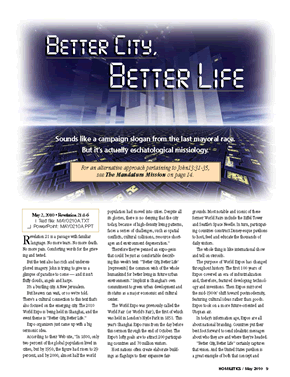 Better City, Better Life
Sunday, May 2, 2010
|
Revelation 21:1-6
The theme for World Expo 2010 is "Better City, Better Life." It's exactly the vision of the writer in Revelation 21.

Revelation 21 is a passage with familiar language. No more tears. No more death. No more pain. Comforting words for the grieving and tested.

But the text also has rich and underexplored imagery. John is trying to give us a glimpse of paradise to come — and it isn't fluffy clouds, angels and harps.

It's a bustling city. A New Jerusalem.

But heaven can wait, or so we're told. There's a cultural connection to this text that's also focused on the emerging city. The 2010 World Expo is being held in Shanghai, and the event theme is "Better City, Better Life."

Expo organizers just came up with a big sermonic idea.

According to their Web site, "In 1800, only two percent of the global population lived in cities, but by 1950, the figure had risen to 29 percent, and by 2000, almost half the world population had moved into cities. Despite all its glories, there is no denying that the city today, because of high-density living patterns, faces a...
---
Start today. Cancel any time.
Act now and, for just $7.99 a month or $69.95 a year, you'll receive a full year of this valuable sermon preparation resource.
Our convenient, continuous-subscription program ensures you'll never miss out on the inspiration you need, when you need it.
You're never obligated to continue. Naturally, you may cancel at any time for any reason, no questions asked.