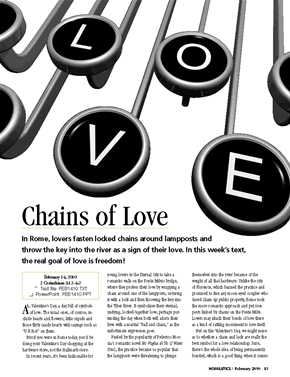 Chains of Love
Sunday, February 14, 2010
|
2 Corinthians 3:12–4:2
Young couples in love are wrapping chains around some bridge posts in Italy, locking the chain and throwing away the key. On Valentine's Day, we investigate.

Ah, Valentine's Day, a day full of symbols of love. The usual ones, of course, include hearts and flowers, little cupids and those flirty candy hearts with sayings such as "U R Hot" on them.

But if you were in Rome today, you'd be doing your Valentine's Day shopping at the hardware store, not the Hallmark store.

In recent years, it's been fashionable for young lovers in the Eternal City to take a romantic walk on the Ponte Milvio bridge, where they profess their love by wrapping a chain around one of the lampposts, securing it with a lock and then throwing the key into the Tiber River. It symbolizes their eternal, undying, locked-together love, perhaps portending the day when both will adorn their lives with a marital "ball and chain," as the unfortunate expression goes.

Fueled by the popularity of Federico Moccia's romantic novel Ho Voglia di Te (I Want You), the practice became so popular that the lampposts were threatening to plunge themselves into the river because of the weight of ...