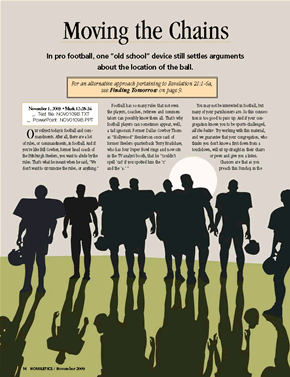 Moving the Chains
Sunday, November 1, 2009
|
Mark 12:28-34
Pro football is high-tech, with radio receivers in quarterback helmets, for example. But to measure forward progress, the NFL still uses two sticks and a chain.
Our subject today is football and commandments. After all, there are a lot of rules, or commandments, in football. And if you're like Bill Cowher, former head coach of the Pittsburgh Steelers, you want to abide by the rules. That's what he meant when he said, "We don't want to circumcise the rules, or anything."

Football has so many rules that not even the players, coaches, referees and commentators can possibly know them all. That's why football players can sometimes appear, well, a tad ignorant. Former Dallas Cowboy Thomas "Hollywood" Henderson once said of former Steelers quarterback Terry Bradshaw, who has four Super Bowl rings and now sits in the TV analyst booth, that he "couldn't spell 'cat' if you spotted him the 'c' and the 'a.'"
You may not be interested in football, but many of your parishioners are. So this connection is too good to pass up. And if your congregation knows you to be sports-challenged, all the better. Try working with this material, and we guarantee that your ...
---
Start today. Cancel anytime.
Act now and, for just $6.99 a month or $69.95 a year, you'll receive a full year of this valuable, sermon preparation resource.
Our convenient, continuous-subscription program ensures you'll never miss out on the inspiration you need, when you need it.
You're never obligated to continue. Naturally, you may cancel at any time for any reason, no questions asked.