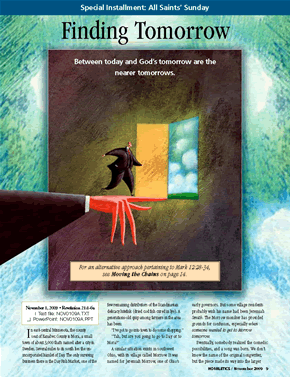 Finding Tomorrow
Sunday, November 1, 2009
|
Revelation 21:1-6a
Special Installment: All Saints' Sunday
If you're going to visit Morrow, Ohio, the question is: Do you want to go to Morrow tomorrow or to Morrow today?
In east-central Minnesota, the county seat of Kanabec County is Mora, a small town of about 3,000 that's named after a city in Sweden. Several miles to its south lies the unincorporated hamlet of Day. The only surviving business there is the Day Fish Market, one of the few remaining distributors of the Scandinavian delicacy lutefisk (dried cod fish cured in lye). A generations-old quip among farmers in the area has been:

"I've got to go into town to do some shopping."

"Yah, but are you going to go to Day or to Mora?"

A similar situation exists in southwest Ohio, with its village called Morrow. It was named for Jeremiah Morrow, one of Ohio's early governors. But some village residents probably wish his name had been Jeremiah Smith. The Morrow moniker has provided grounds for confusion, especially when someone wanted to get to Morrow tomorrow.

Eventually, somebody realized the comedic possibilities, and a song was born. We don't know the name of the original songwriter, but the piece made...
---
Start today. Cancel any time.
Act now and, for just $7.99 a month or $69.95 a year, you'll receive a full year of this valuable sermon preparation resource.
Our convenient, continuous-subscription program ensures you'll never miss out on the inspiration you need, when you need it.
You're never obligated to continue. Naturally, you may cancel at any time for any reason, no questions asked.