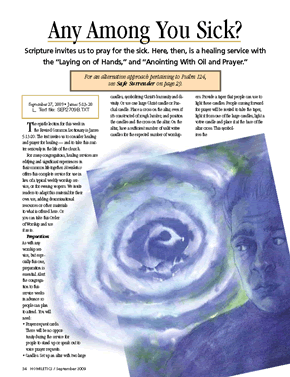 Any Among You Sick?
Sunday, September 27, 2009
|
James 5:13-20
Homiletics offers a service of healing.
The epistle lection for this week in the Revised Common Lectionary is James 5:13-20. The text invites us to consider healing and prayer for healing — and to take this matter seriously in the life of the church.

For many congregations, healing services are edifying and significant experiences in their common life together. Homiletics offers this complete service for use in lieu of a typical weekly worship service, or for evening vespers. We invite readers to adapt this material for their own use, adding denominational resources or other materials to what is offered here. Or you can take this Order of Worship and use it as is.

Preparation: As with any worship service, but especially this one, preparation is essential. Alert the congregation to this service weeks in advance so people can plan to attend. You will need:

• Prayer-request cards. There will be no opportunity during the service for people to stand up or speak out to voice prayer requests.

• Candles. Set up an altar with two large ...
---
Start today. Cancel anytime.
Act now and, for just $6.99 a month or $69.95 a year, you'll receive a full year of this valuable, sermon preparation resource.
Our convenient, continuous-subscription program ensures you'll never miss out on the inspiration you need, when you need it.
You're never obligated to continue. Naturally, you may cancel at any time for any reason, no questions asked.