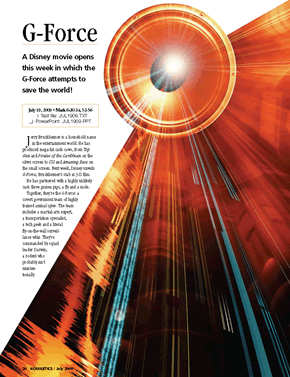 G-Force
Sunday, July 19, 2009
|
Mark 6:30-34, 53-56
Three guinea pigs, a fly and a mole. Together they're the G-Force in Jerry Bruckheimer's new movie.
Jerry Bruckheimer is a household name in the entertainment world. He has produced mega-hit cash cows, from Top Gun and Pirates of the Caribbean on the silver screen to CSI and Amazing Race on the small screen. Next week, Disney unveils G-Force, Bruckheimer's stab at 3-D film.

He has partnered with a highly unlikely cast: three guinea pigs, a fly and a mole.

Together, they're the G-Force: a covert government team of highly trained animal spies. The team includes a martial-arts expert, a transportation specialist, a tech geek and a literal fly-on-the-wall surveillance whiz. They're commanded by squad leader Darwin, a rodent who probably isn't unintentionally named, given how highly evolved he seems.

The fate of the world rests in the paws of this G-Force. They must foil the attempts of an evil billionaire to dominate the world. It's a familiar plot line with Disney-esque superheroes.

There's a G-Force at work in this text

In this film, G-Force may stand...
---
Start today. Cancel any time.
Act now and, for just $7.99 a month or $69.95 a year, you'll receive a full year of this valuable sermon preparation resource.
Our convenient, continuous-subscription program ensures you'll never miss out on the inspiration you need, when you need it.
You're never obligated to continue. Naturally, you may cancel at any time for any reason, no questions asked.