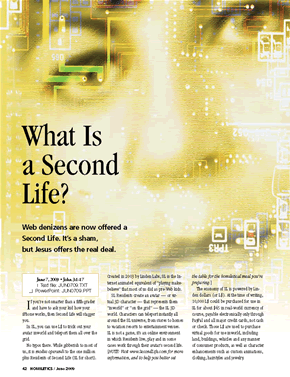 What Is a Second Life?
Sunday, June 7, 2009
|
John 3:1-17
Go to www.SecondLife.com and you can begin a second life. It's a virtual life, of course, and nothing like the new life that Jesus had in mind when he said, "You must be born again."

If you're not smarter than a fifth-grader and have to ask your kid how your iPhone works, then Second Life will stagger you.

In SL, you can use L$ to trick out your avatar inworld and teleport them all over the grid.

No typos there. While gibberish to most of us, it is modus operandi to the one million plus Residents of Second Life (SL for short). Created in 2003 by Linden Labs, SL is the Internet animated equivalent of "playing make-believe" that most of us did as pre-Web kids.

SL Residents create an avatar — or virtual 3D character — that represents them "inworld" or "on the grid" — the SL 3D world. Characters can teleport instantly all around the SL universe, from stores to homes to vacation resorts to entertainment venues. SL is not a game, it's an online environment in which Residents live, play and in some cases work through their avatar's second life. [NOTE: Visit www.SecondLife.com for more information, and...
---
Start today. Cancel anytime.
Act now and, for just $6.99 a month or $69.95 a year, you'll receive a full year of this valuable, sermon preparation resource.
Our convenient, continuous-subscription program ensures you'll never miss out on the inspiration you need, when you need it.
You're never obligated to continue. Naturally, you may cancel at any time for any reason, no questions asked.