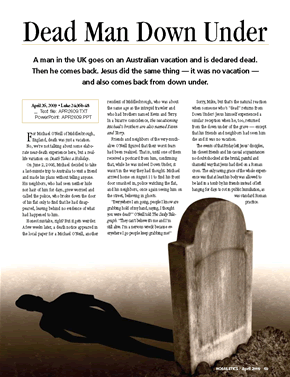 Dead Man Down Under
Sunday, April 26, 2009
|
Luke 24:36b-48
A remarkable story comes to us from the UK about a man who goes on vacation without telling anyone, and returns in time to attend his own funeral. Sound familiar?

For Michael O'Neill of Middlesbrough, England, death was just a vacation.

No, we're not talking about some elaborate near-death experience here, but a reallife variation on Death Takes a Holiday.

On June 2, 2008, Michael decided to take a last-minute trip to Australia to visit a friend and made his plans without telling anyone. His neighbors, who had seen neither hide nor hair of him for days, grew worried and called the police, who broke down the door of his flat only to find that he had disappeared, leaving behind no evidence of what had happened to him.

Honest mistake, right? But it gets weirder. A few weeks later, a death notice appeared in the local paper for a Michael O'Neill, another resident of Middlesbrough, who was about the same age as the intrepid traveler and who had brothers named Kevin and Terry. In a bizarre coincidence, the vacationing Michael's brothers are also named Kevin and Terry.

Friends and neighbors of the very-much- alive O'Neill...
---
Start today. Cancel anytime.
Act now and, for just $6.99 a month or $69.95 a year, you'll receive a full year of this valuable, sermon preparation resource.
Our convenient, continuous-subscription program ensures you'll never miss out on the inspiration you need, when you need it.
You're never obligated to continue. Naturally, you may cancel at any time for any reason, no questions asked.