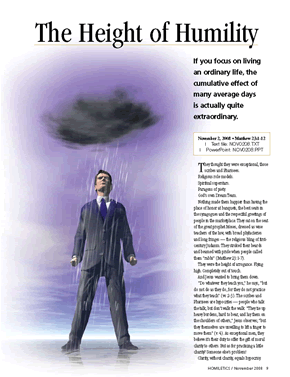 The Height of Humility
Sunday, November 2, 2008
|
Matthew 23:1-12
It might be better for us to be average rather than exceptional, because ordinary people can move through life with humility and accomplish some truly extraordinary things. What's more, our attempts to be exceptional can actually cause us to be unhappy.

They thought they were exceptional, those scribes and Pharisees.

Religious role models.

Spiritual superstars.

Paragons of piety.

God's own Dream Team.

Nothing made them happier than having the place of honor at banquets, the best seats in the synagogues and the respectful greetings of people in the marketplace. They sat on the seat of the great prophet Moses, dressed as wise teachers of the law, with broad phylacteries and long fringes — the religious bling of first- century Judaism. They stroked their beards and beamed with pride when people called them "rabbi" (Matthew 23:1-7).

They were the height of arrogance. Flying high. Completely out of touch.

And Jesus wanted to bring them down.

"Do whatever they teach you," he says, "but do not do as they do, for they do not practice what they teach" (vv. 2-3). The scribes and Pharisees are hypocrites — people who talk the talk, but don't walk the walk. "They tie up heavy burdens, hard to bear, and lay them on the shoulders of others," Jesus...
---
Start today. Cancel anytime.
Act now and, for just $6.99 a month or $69.95 a year, you'll receive a full year of this valuable, sermon preparation resource.
Our convenient, continuous-subscription program ensures you'll never miss out on the inspiration you need, when you need it.
You're never obligated to continue. Naturally, you may cancel at any time for any reason, no questions asked.