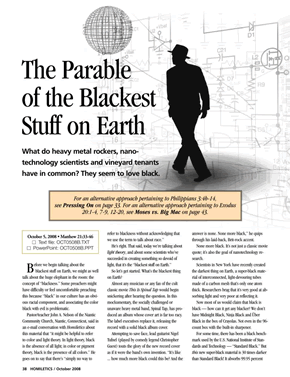 The Parable of the Blackest Stuff on Earth
Sunday, October 5, 2008
|
Matthew 21:33-46
Scientists have recently created the darkest thing on Earth, a super-black material of interconnected, light-devouring tubes made of a carbon mesh that's only one atom thick. It's black — no doubt. Homiletics' first treatment of this text. Check it out.
Before we begin talking about the blackest stuff on Earth, we might as well talk about the huge elephant in the room: the concept of "blackness." Some preachers might have difficulty or feel uncomfortable preaching this because "black" in our culture has an obvious racial component, and associating the color black with evil is problematic.

Pastor/teacher John A. Nelson of the Niantic Community Church, Niantic, Connecticut, said in an e-mail conversation with Homiletics about this material that "it might be helpful to refer to color and light theory. In light theory, black is the absence of all light; in color or pigment theory, black is the presence of all colors." He goes on to say that there's "simply no way to refer to blackness without acknowledging that we use the term to talk about race."

He's right. That said, today we're talking about light theory, and about some scientists who've succeeded in creating...
---
Start today. Cancel anytime.
Act now and, for just $6.99 a month or $69.95 a year, you'll receive a full year of this valuable, sermon preparation resource.
Our convenient, continuous-subscription program ensures you'll never miss out on the inspiration you need, when you need it.
You're never obligated to continue. Naturally, you may cancel at any time for any reason, no questions asked.