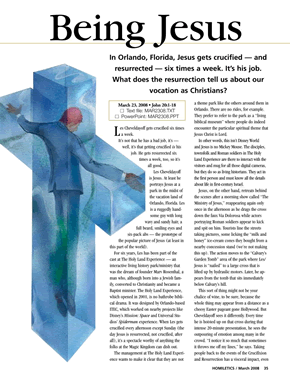 Being Jesus
Sunday, March 23, 2008
|
John 20:1-18
Les Cheveldayoff works in a Holy Land theme park in Florida. His job? He's Jesus, and he gets crucified every day. Good news? He gets a resurrection every day, too!
Les Cheveldayoff gets crucified six times a week.

It's not that he has a bad job, it's — well, it's that getting crucified is his job. He gets resurrected six times a week, too, so it's all good.

Les Cheveldayoff is Jesus. At least he portrays Jesus at a park in the midst of the vacation land of Orlando, Florida. Les is a ruggedly handsome guy with long wavy and sandy hair, a full beard, smiling eyes and six-pack abs — the prototype of the popular picture of Jesus (at least in this part of the world).

For six years, Les has been part of the cast at The Holy Land Experience — an interactive living history park/ministry that was the dream of founder Marv Rosenthal, a man who, although born into a Jewish family, converted to Christianity and became a Baptist minister. The Holy Land Experience, which opened in 2001, is no bathrobe biblical drama. It was designed by Orlando-based ITEC, which worked on nearby projects like Disney's Mission:...
---
Start today. Cancel anytime.
Act now and, for just $6.99 a month or $69.95 a year, you'll receive a full year of this valuable, sermon preparation resource.
Our convenient, continuous-subscription program ensures you'll never miss out on the inspiration you need, when you need it.
You're never obligated to continue. Naturally, you may cancel at any time for any reason, no questions asked.