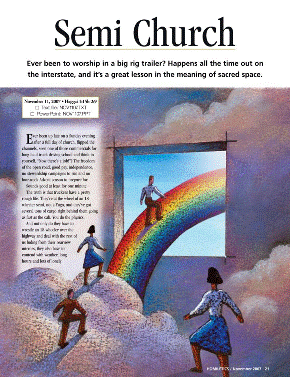 Semi Church
Sunday, November 11, 2007
|
Haggai 1:15b-2:9
Sacred space might be a tent, a temple or a truck. What matters is who is there.
Ever been up late on a Sunday evening after a full day of church, flipped the channels, seen one of those commercials for long-haul truck driving school and think to yourself, "Now there's a job!"? The freedom of the open road, good pay, independence, no stewardship campaigns to run and no four-week Advent season to prepare for.

Sounds good at least for one minute.

The truth is that truckers have a pretty rough life. They're at the wheel of an 18- wheeler semi, not a Yugo, and they've got several tons of cargo right behind them going as fast as the cab. You do the physics.

And not only do they have to wrestle an 18-wheeler over the highway and deal with the rest of us hiding from their rearview mirrors, they also have to contend with weather, long hours and lots of lonely nights spent at truck stops around the country. It's little wonder that the turnover rate for truckers is so high — as high as 100 percent in some large trucking companies in the third quarter of 2006.

Trucking is...
---
Start today. Cancel anytime.
Act now and, for just $6.99 a month or $69.95 a year, you'll receive a full year of this valuable, sermon preparation resource.
Our convenient, continuous-subscription program ensures you'll never miss out on the inspiration you need, when you need it.
You're never obligated to continue. Naturally, you may cancel at any time for any reason, no questions asked.