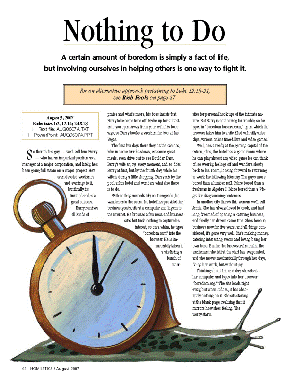 Nothing to Do
Sunday, August 5, 2007
|
Ecclesiastes 1:2, 12-14; 2:18-23
In a culture as fast-paced as ours, you'd think that boredom would be the last thing to plague us. Wrong!

So there's this guy — we'll call him Barry — who has an important position as a manager at a major corporation, and lately, he's been going full steam on a major project. He's even devoted weekends and evenings to it, but finally it's finished and is a great success.

Barry receives all kinds of praise and what's more, his boss insists that Barry take some time off. Make up for all that time you spent away from your wife, his boss says, so Barry books a vacation for two at Las Vegas.

The first few days there they hit the casinos, take in some terrific shows, eat some great meals, even drive out to see Boulder Dam. Barry's wife enjoys every moment, and so does Barry at first, but by the fourth day, while his wife is doing a little shopping, Barry sits by the pool at his hotel and wonders what else there is to do.

With nothing immediately on the agenda, he wanders into the room the hotel has provided for business guests, sits at a computer and logs in to the Internet. He browses a...