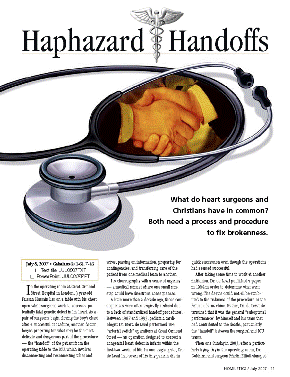 Haphazard Handoffs
Sunday, July 8, 2007
|
Galatians 6:(1-6), 7-16
Formula One race drivers and top-notch surgeons have this in common: They've got great "handoff" teams that know how to deal with problems.

In the operating room at Great Ormond Street Hospital in London, 3 year-old Faissan Hussain lies on a table with his chest open while surgeons work to correct a potentially fatal genetic defect in his heart. As a pair of surgeons begin closing the boy's chest after a successful procedure, another doctor begins preparing for what may be the most delicate and dangerous part of the procedure — the handoff of the patient from the operating table to the ICU, which involves disconnecting and reconnecting tubes and wires, passing on information, preparing for contingencies, and transferring care of the patient from one medical team to another.

It's choreography with a sense of urgency — a medical minuet where one small misstep could have disastrous consequences.

A little more than a decade ago, those consequences were often tragically realized due to a lack of standardized handoff procedures. Between 1987 and 1993, pediatric cardiologist Dr. Marc de Leval performed 104 "arterial...
---
Start today. Cancel any time.
Act now and, for just $7.99 a month or $69.95 a year, you'll receive a full year of this valuable sermon preparation resource.
Our convenient, continuous-subscription program ensures you'll never miss out on the inspiration you need, when you need it.
You're never obligated to continue. Naturally, you may cancel at any time for any reason, no questions asked.