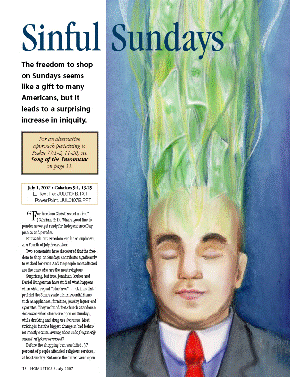 Sinful Sundays
Sunday, July 1, 2007
|
Galatians 5:1, 13-25
Studies show that when communities repeal their "blue" laws, things really get blue.

"For freedom Christ has set us free" (Galatians 5:1). What a good line to ponder as we get ready for Independence Day picnics and parades.

But watch out. Freedom can be as explosive as a Fourth of July firecracker.

Two economists have discovered that the freedom to shop on Sundays contributes significantly to wicked behavior. And the people most affected are the ones who are the most religious.

Surprising, but true. Jonathan Gruber and Daniel Hungerman have studied what happens when states repeal "blue laws" — statutes that prohibit the Sunday sale of nonessential items such as appliances, furniture, jewelry, liquor and cigarettes. They've found that church attendance decreases when stores are open on Sundays, while drinking and drug use increase. Most striking is that the biggest change in bad behavior mostly occurs among those who frequently attend religious services!!!

Before the shopping ban was lifted, 37 percent of people attended...
---
Start today. Cancel anytime.
Act now and, for just $6.99 a month or $69.95 a year, you'll receive a full year of this valuable, sermon preparation resource.
Our convenient, continuous-subscription program ensures you'll never miss out on the inspiration you need, when you need it.
You're never obligated to continue. Naturally, you may cancel at any time for any reason, no questions asked.