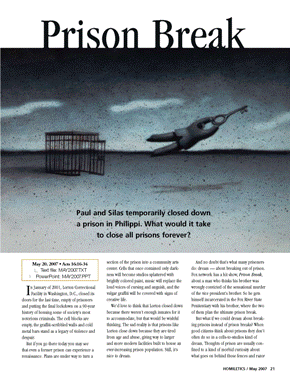 Prison Break
Sunday, May 20, 2007
|
Acts 16:16-34
The "prison break" is a literary plot device quite common in movies and television shows. What if there were a way to break prisons?
In January of 2001, Lorton Correctional Facility in Washington, D.C., closed its doors for the last time, empty of prisoners and putting the final lockdown on a 90-year history of housing some of society's most notorious criminals. The cell blocks are empty, the graffiti-scribbled walls and cold metal bars stand as a legacy of violence and despair.

But if you go there today you may see that even a former prison can experience a renaissance. Plans are under way to turn a section of the prison into a community arts center. Cells that once contained only darkness will become studios splattered with brightly colored paint, music will replace the loud voices of cursing and anguish, and the vulgar graffiti will be covered with signs of creative life.

We'd love to think that Lorton closed down because there weren't enough inmates for it to accommodate, but that would be wishful thinking. The sad reality is that prisons like Lorton close down because they are tired from...
---
Start today. Cancel anytime.
Act now and, for just $6.99 a month or $69.95 a year, you'll receive a full year of this valuable, sermon preparation resource.
Our convenient, continuous-subscription program ensures you'll never miss out on the inspiration you need, when you need it.
You're never obligated to continue. Naturally, you may cancel at any time for any reason, no questions asked.