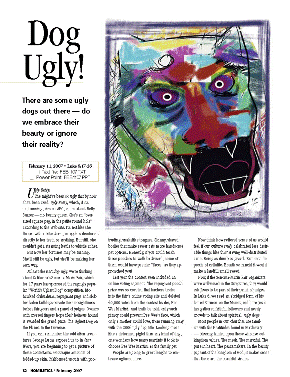 Dog Ugly!
Sunday, February 11, 2007
|
Luke 6:17-26
On TV, we've got Ugly Betty. At California's Sonoma-Marin Fair, we've got ugly dogs. What can we possibly learn?
Ugly Betty.

She might've been so ugly that by now she's been axed. Ugly Betty, which, if it's still running, airs on ABC, and is about Betty Suarez — no beauty queen. She's an "oversized square peg, in the petite round hole" according to the Web site. It's not like she flosses with a bike chain, or applies deodorant directly to her teeth or anything. But still, she couldn't get a steaming kettle to whistle at her.

But now her fortunes may be turning. She'll still be ugly, but she'll be making her own way.

At least she isn't dog ugly. We're thinking about California's Sonoma-Marin Fair, which for 17 years has sponsored the ragingly popular "World's Ugliest Dog" competition. Mohawked chihuahuas, repugnant pugs and slobber-laden bulldogs parade their unsightliness before fair-goers and a panel of judges. Owners with crossed fingers hope their heinous hound is awarded the grand prize: The...
---
Start today. Cancel anytime.
Act now and, for just $6.99 a month or $69.95 a year, you'll receive a full year of this valuable, sermon preparation resource.
Our convenient, continuous-subscription program ensures you'll never miss out on the inspiration you need, when you need it.
You're never obligated to continue. Naturally, you may cancel at any time for any reason, no questions asked.