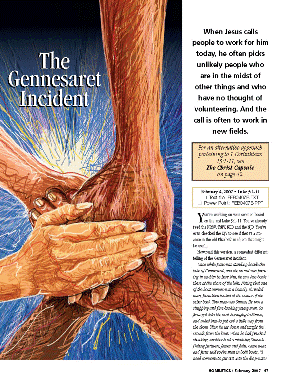 The Gennesaret Incident
Sunday, February 4, 2007
|
Luke 5:1-11
You might be surprised to learn that Jesus isn't looking for volunteers!
You're working on your sermon based on the text Luke 5:1-11. You've already read the NRSV, TNIV, NEB and the NJB. You've even checked the KJV to see if there's a nuance in the old Elizabethan idiom that might be useful.

Now read this version, a somewhat different telling of the Gennesaret incident:

Once while Jesus was standing beside the lake of Gennesaret, and the crowd was pressing in on him to hear him, he saw two boats there at the shore of the lake. Noting that one of the boat owners was a homely, shriveled man, Jesus then looked at the owner of the other boat. This man was Simon, He was a strapping and fine-looking young man. So Jesus got into the boat belonging to Simon, and asked him to put out a little way from the shore. Then he sat down and taught the crowds from the boat. When he had finished speaking, another boat containing Simon's fishing partners, James and John, came near, and Jesus said to the men in both boats, "I need someone to...
---
Start today. Cancel anytime.
Act now and, for just $6.99 a month or $69.95 a year, you'll receive a full year of this valuable, sermon preparation resource.
Our convenient, continuous-subscription program ensures you'll never miss out on the inspiration you need, when you need it.
You're never obligated to continue. Naturally, you may cancel at any time for any reason, no questions asked.