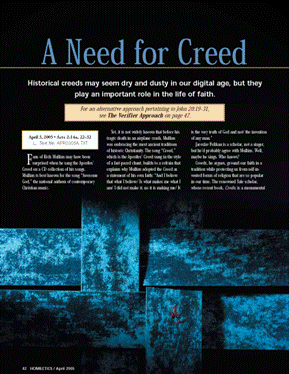 A Need for Creed
Sunday, April 3, 2005
|
Acts 2:14a, 22-32
Creeds are back! We're writing them, writing about them, and singing them. What's going on?
Fans of Rich Mullins may have been surprised when he sang the Apostles' Creed on a CD collection of his songs. Mullins is best known for the song "Awesome God," the national anthem of contemporary Christian music.

Yet, it is not widely known that before his tragic death in a car accident, Mullins was embracing the most ancient traditions of historic Christianity. The song "Creed," which is the Apostles' Creed sung in the style of a fast-paced chant, builds to a refrain that explains why Mullins adopted the Creed as a statement of his own faith: "And I believe that what I believe/ Is what makes me what I am/ I did not make it, no it is making me/ It is the very truth of God and not/ the invention of any man."

Jaroslav Pelikan is a scholar, not a singer, but he'd probably agree with Mullins. Well, maybe he sings. Who knows?

Creeds, he argues, ground our faith in a tradition while protecting us from self-invented forms of religion that are so popular in our time. The renowned Yale...
---
Start today. Cancel any time.
Act now and, for just $7.99 a month or $69.95 a year, you'll receive a full year of this valuable sermon preparation resource.
Our convenient, continuous-subscription program ensures you'll never miss out on the inspiration you need, when you need it.
You're never obligated to continue. Naturally, you may cancel at any time for any reason, no questions asked.